21 February, 2019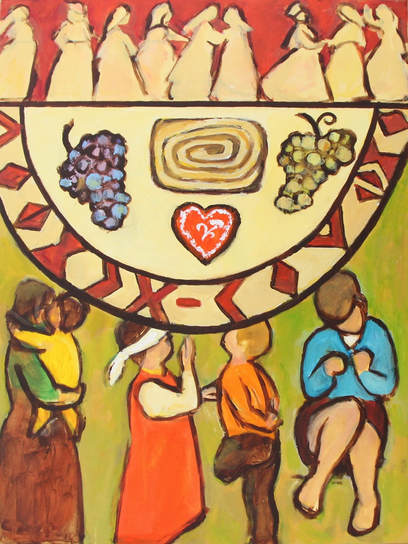 Come to the table – everything is ready
(Luke 15:17) 
This year, Women's World Day of Prayer will be held on Friday March 1st.
This is a global ecumenical movement which brings Christians of many traditions together to observe a common day of prayer each year. This day is about informed Prayer and Prayerful Action. It is an occasion when Christians from over 170 countries coming together in spirit, unite to pray for relevant issues affecting women and children. The movement has been active for nearly 100 years.
Each year, a different participating country leads the Prayer Service around which the Day is built. This year a group of Slovenian Christian women is inviting the world to "Come to the table—everything is ready" (Lk.15.17) and asking, "Who is not at the table?" This year's World Day of Prayer is on Friday, March 1, 2019, and these Slovenian women are asking people to unite in prayer and immediate action for women touched by injustice.
The artwork commissioned for World Day of Prayer 2019 is by the Slovenian artist Rezka Arnuš. It  depicts women in traditional Slovenian Dress on the top, a table set with food and, on the bottom, women and children on the margins of society – those who should be included and invited to the table.
"Amen, I say to you, whatever you did for one of these least brothers or sisters of mine, you did for me."  (Mt 25:40)
To Read The Prayer Service Click Here