24 December, 2010
2010 has been a difficult year for us in Pakistan
Sisters of St John of God, Pakistan
CHRISTMAS 2010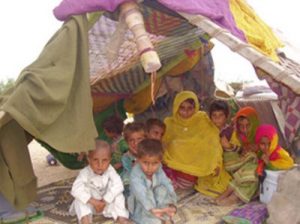 Still awaiting a home.
"They wrapped him in swaddling clothes and laid him in a manger because there was no room in the inn" (Lk. 2 : 8)
Dear Sisters,
Christmas greeting to each of you from Pakistan and we want to wish you every peace and blessing for 2011.
As you are aware the past year has been a very difficult year for Pakistan and its people and continues to be so for so many still without a home or employment. Here in the Punjab we continue to give health care in five remote villages in the Sargodha district affected by the floods, and supporting the Columban Sister's mission in Sindh in the Southern Province with the building of homes thanks to generous donors. It will take years to undo the destruction caused by the disaster, and we trust that it does not happen again next year, as many scientists say nowadays its 'climate change'.
Recently, as you would have seen from the Website we had canonical visitation with Sr Brid. We regret that Sr. Sakina Nazir, one of our temporary professed Sisters decided not to renew her vows. Sr Felicity has left for Australia for a well deserved vacation. Felicity will return again in March for a short stay. We miss them both.
Thank God we are well otherwise and kept busy with the daily demands. Five of our Sisters are sitting for exams or preparing for same over the Christmas season. Please remember them in your prayers; holidays will come later! We are enjoying the coolness of these winter days with temperatures still acceptable and preparations are in progress for Christmas programmes, communicating in song and drama the Nativity event with great passion.
We will conclude this greeting by thanking you once again for your prayerful support always. Our congratulations to all our Sisters who celebrated jubilees during the year and our prayers go to others who have suffered bereavements. We take this opportunity to thank you for newsletters and the website which help us to keep in touch with the wider Congregation.
Wishing you peace, love and joy in abundance this Christmas season, from all of us in Pakistan: Srs. Josephine, Rubina, Victorine, Musarrat, Tasneem, Margaret, Alishba, Kauser, Nazia, Zartashia, Ruby, Shamim, Andleeb, Saira and Michelle; Novices: Srs. Anita, Victoria, Sunita and Sobia.
Michelle McHale