18 June, 2020
'Close to 1000 photographs taken in the Kimberley up to 70 years ago have emerged from deep in a Sisters of St John of God archive in Broome, with work well under way to identify them thanks to the COVID-19 lockdown.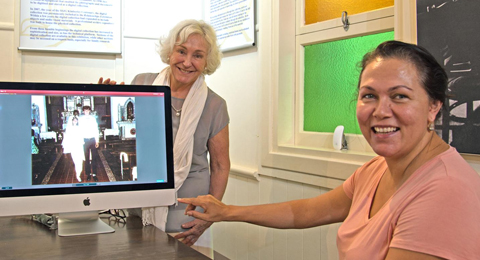 Kayleen Hunter (seated) and Helen-Mary Martin at the Broome Heritage Centre
Curator and researcher at the Broome Heritage Centre, Sr Pat Rhatigan, said that when the Centre's Relationships Exhibition had to temporarily close to the public, it proved to be an opportune time for staff to delve deep into the Centre's archives for unprocessed photographic donations.
"Some of the photos date back as early as 1948, and have been taken at locations throughout the Kimberley. All share a connection between the Kimberley people and the Sisters of St John of God, who came in response to the needs of the people and began nursing, teaching and ministering in the region in 1907," Sr Rhatigan said.
The Sisters run the Broome Heritage Centre and Relationships Exhibition, recognised as a major social history research facility, and attracting interest from around the world…'
Source: The eRecord Catholic Newspaper Perth. Used with permission
Read the rest of the article here
Find out more about the Heritage Centre by visiting the Centre's website here