6 December, 2021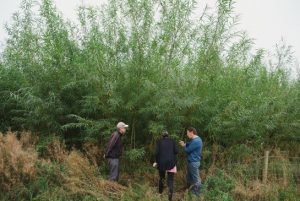 "Walking the path of the Willow"
…. the road to renewable energy at St Patrick's Kiltegan
Continuing our exploration in journeying towards an ecological awakening, Toni and Helena from AMRI travelled to the beautiful home of St. Patrick's Missionary Society, just outside of the village of Kiltegan in County Wicklow.
Responding to Pope Francis' "challenge to protect our common home" encapsulated in his 2015 encyclical Laudato Si, the Fathers at St. Patrick's Kiltegan tried to find ways of producing energy from renewable sources. They began by installing a wind turbine, solar panels and geo-thermal central heating. Recognising that more could be done, in 2018, they planted 13 acres of willow, followed by another 21 acres two years later for biomass fuel to replace their dependence on oil as central heating.
Their story is presented in a podcast and a photo blog.
In the podcast, Fr. Seamus O'Neill and Fr. Pat Murphy take us on an ecological walk that reflects on how the Kiltegan Fathers have responded to the challenge of living Laudato Si:
To listen to the podcast click here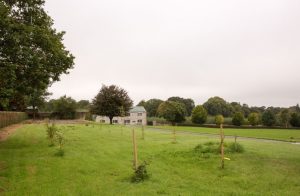 (Above) Alphabet Avenue: supporting the Afri Celtic Alphabet Tree Planting Project. The trees along the 'avenue' reflects a commitment to living in peace and justice with our species and our planet. Each individual tree aligns with a decades-long tradition of planting 18 trees/plants that correspond with the 18 letters of the ancient Irish alphabet.

(Above) "Congratulations to the noble heart, they shall experience God"
The heart sculpture tries to capture the essence of Sli an Chroi – 'the way of the heart'. It invites people to look into their own hearts and get in touch with compassion, vulnerability and love, and find within themselves the ability to share that love with others. The mirrors symbolise looking at oneself, while the double heart symbolises looking outward to the world.
The centre (below) is described as "A sacred space to rest or reflect, to pray or retreat, to nourish yourself, to be nourished by quiet and nature". Sli an Chroi is a gathering place of refuge for any individual or group to take time out of the everyday, to reflect on their sacred story and their environment.
Sophia Counselling Centre provides low-cost counselling to people in West Wicklow and Carlow and is a resource for those who may be dealing with Mental health issues.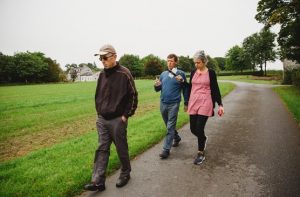 (Above) Fr. Seamus O'Neill and Fr. Pat Murphy, 'walking the talk' sharing their inspirational journey in responding to Laudato Si and caring for the earth.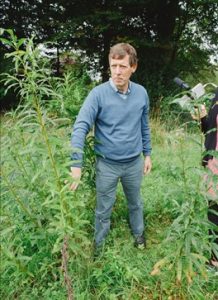 The journey begins at the willow tree plantation. Fr. Seamus outlines the process involved in growing willow as a biomass crop to produce wood chip as a carbon neutral source of energy for central heating.
Willow is one of the fastest growing trees and produces a lot of biomass in a short space of time. Willow biomass crops increase habitat diversity. They are planted on open agricultural land.
The willow is cut into fine chips and blown into silage trailers by a machine similar to a silage harvester. The chip is then stored in a specially designed drying shed to reduce its moisture content, ready for the boiler. After 6 weeks of drying the moisture is reduced to below 30%, which enables it to burn effectively. Using willow for fuel is carbon neutral. Willow chip releases carbon when it burns but does not add to the carbon in the atmosphere. When it grows, willow takes in carbon from the air and takes in the same amount during growth as it releases when it burns.
Below: The boiler room: the boiler produces enough central heating for all four of the main buildings at Kiltegan. It does this by pumping hot water underground into each building. The boiler feeds itself automatically from the attached fuel bin, which is 'fed' one or twice a week with wood chip from the biomass fuel store. The boiler 'intelligence' is fully automatic and maintenance is minimal.