10 March, 2021
International Women's Day 2021: St John of God Hospital's Shirley Bowen wants dads to inspire daughters
Danielle Le Messurier The West Australian
Sat, 6 March 2021 2:00AM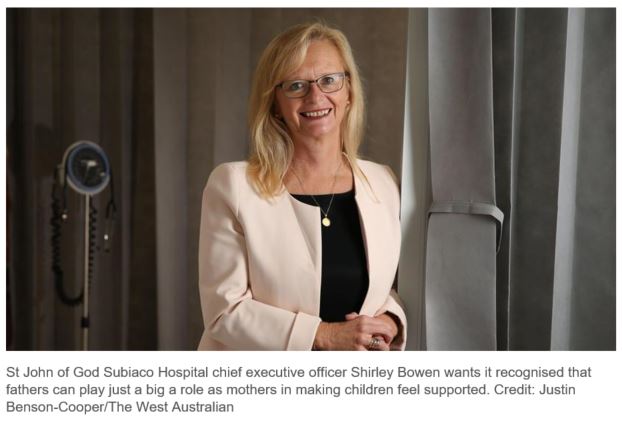 St John of God Subiaco Hospital chief executive Shirley Bowen owes much of her success to her father, who always encouraged her to dream bigger than her family's circumstances allowed.
Despite coming from country NSW and never having seen a family member go through university, her dream of becoming a doctor was not once considered beyond the realms of possibility.
John Bowen's unwavering belief in his daughter's abilities as a young child saw her go on to help thousands of people through a number of crises including the HIV epidemic, the original SARS outbreak and now COVID-19.
"My father was a very traditional farmer and I reflect on it that the opportunities I have had really come from the fact that right at the beginning he had immense belief in my ability," Professor Bowen said.
"From the moment I could speak I said I wanted to be a doctor … he never said to me, 'You're from the country, nobody in our family has ever been to university', he always said, 'That's fantastic. You can do whatever you want'.
For girls, that belief in their capability and that they're supported is so pivotal to what happens thereafter.
Professor Bowen also travelled to Africa to research sexually transmitted diseases and HIV, which she said led to a realisation that "the basics of public health are everything".
"It's very difficult to talk about the prevention of some diseases when people don't have a roof over their head and water or food in their stomach," she said.
Ahead of International Women's Day on Monday, Professor Bowen wants it recognised that fathers can play just as big a role as mothers in making sure girls are supported to believe they are capable.
This year's theme, "Women in leadership: achieving an equal future in a COVID-19 world", focuses on how women stand at the front lines of the pandemic as healthcare workers and caregivers.
Professor Bowen — who has a son of her own — said it was a reality that while women in the workforce are more than capable, they are also pivotal to sustaining the family unit.
"Apart from coming to work every day, we're also doing all those other things that come with being central to a family," she said.
The infectious disease specialist said she felt fortunate to have been treated with respect throughout her career, which spans 33 years as a doctor and includes two decades in executive management of hospitals and public health.
She had strong female mentors when she was starting out in Sydney, Tania Sorrell and Lyn Gilbert, who are two of the leading lights in infectious diseases medicine.
But there were still times when her gender became a point of discussion and overshadowed her expertise.
"When I applied for my first specialty training job, I was interviewed by the head of department, who was a man, and he asked me what type of contraception I was using," Professor Bowen said.
"There's been quite a change in the way we approach everything, but it just shows … as a woman you should be treated with respect and equality, and the role that you perform is not gender-based.
"You need respect for the human being, and everything flows from here."
Women account for 81 per cent of the entire workforce of St John of God Health Care, one of Australia's largest private hospital operators.
It has 10 facilities in Western Australia.