7 August, 2017
The International Day of the World's Indigenous Peoples, pays tribute to indigenous communities across the globe.The annual celebration dates back to December 1994 when the UN General Assembly decided to hold yearly observances.
Living across 90 countries, indigenous peoples make up less than five per cent of the world's population, represent some 5,000 different cultures and speak a majority of the world's estimated 7,000 languages.
This year marks the 10th Anniversary of the UN Declaration on the Rights of Indigenous Peoples which is the theme of this year's celebrations.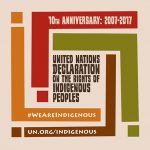 This day is a good opportunity to remember with gratitude the Sisters of St John of God partnership with the Aboriginal people of Australia, a relationship which spans 110 years, beginning with the arrival of nine Sisters in Beage Bay Mission.
Today the Sisters continue this friendship in services with the people of the Kimberley Region. Learn more of our story by visiting the St John of God Heritage Centre, Broome online or in person.