7 August, 2018
Mary MacKillop was an ordinary woman who lived an extraordinary life.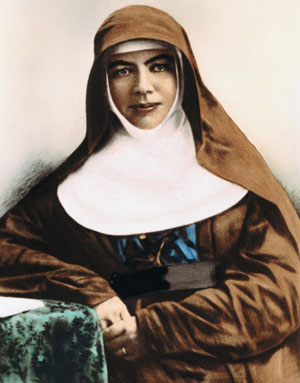 Mary's motto: "Never see a need without doing something about it"
Born of Scottish immigrant parents, the eldest of eight children, Mary received good education from her father, but grew up in poverty, as he was not a good provider for the family. From an early age, she worked hard to support her mother and younger siblings.
In 1866, she began a school in a disused stable in Penola, South Australia, and young women with a similar passion for caring for those in need joined her, and thus was born the Congregation of the Sisters of St Joseph (known affectionately in Australia as the Josephites or 'Joeys'). The Sisters quickly spread to remote outback areas and to the cities, offering education to poor children. Mary also established orphanages, homes to care for those who were destitute, and refuges for former prisoners and prostituted women who wished to make a fresh start in life.
Mary was beatified on 19 January 1995 at Randwick Racecourse, Sydney, in a Mass celebrated by Pope John Paul II.She was canonised as Saint Mary of the Cross at a Mass celebrated by Pope Benedict XVI in St Peter's Square in the Vatican on 17 October 2010.
Read more about Australia's first Saint, Mary MacKillop, from the women who know her best and who continue to walk in her footsteps, the Sisters of St Joseph of the Sacred Heart.
Image: MMKT6 Mary 1882
©Trustees of the Sisters of St Joseph. Used with permission of the Trustees of the Sisters of St Joseph.