Obituary: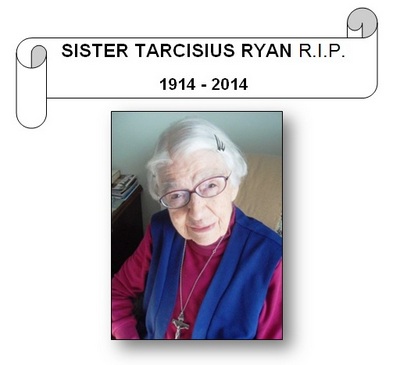 Elizabeth Mary Ryan, known to her family as Bessie and in Religious Life as Sister Tarcisius Ryan, was born in Bessmount, Tipperary on 16 December 1914 to Martin and Alice Ryan. She later lived in Cherryorchard, Enniscorthy, Co Wexford. At a very early age she felt called to religious life. She joined the Sisters of St John of God on 7 November 1930 and on the 19 December she travelled to Australia with her younger sister Theodore, (who also entered the same date), on the ship Ontranto. She made her First Profession of Vows in December 1933 and Final commitment in December 1936 in Subiaco Convent, Perth.
Tarcisius was a cherished and much loved Community Sister, and a very remarkable and talented woman, graduating as a Registered Nurse, Midwife, Infant Health Nurse, Nurse Educator, and Nursing Administrator. With great dedication, tact and good humour she met all the challenges that came her way and created a happy environment for staff and students. The hallmark of all her activities, however, was her constant endeavour to share her love, her knowledge and especially her gift of Faith.
Tarcisius, died peacefully at Subiaco Convent on 14 January 2014 and her funeral Mass was celebrated in the Convent Chapel on Tuesday 20 January, with Sisters, family and friends in attendance.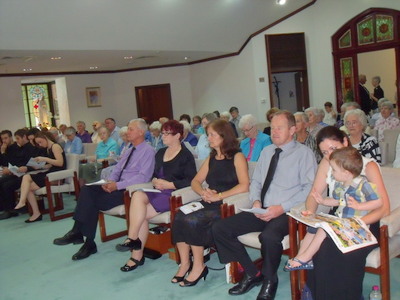 While Sr Tarcisius did not want a Eulogy at her funeral, her grandniece, Amy Ryan, was more than eager to say a few words about her beloved and gracious grandaunt.
At the beginning of her funeral Mass Amy shared  a few words with the congregation, saying, "Tarcisius to me was just Bessie, who was more than a Great Aunt, she was like a grandmother – one of the few relatives we had in Perth. Bessie always remembered that I loved cheddar cheese, and each time I came to visit, when I was younger, she would always have cheese waiting for me!  We shared a passion for books and reading, especially for novels. Aunty Bessie warmly welcomed my husband into our family, something that meant a great deal to me and I believe my little son, Tadhg, gave her a lot of joy; she was always delighted to see him. The last time Tadhg and I visited Bessie, she was in bed, but she held Tadhg's hand, and I will forever have the image of their two hands together, young and old – with 97 years difference between them. I often wondered what the world would have been like through Bessie's eyes – to see so much change over her 99 years.
It is impossible to sum up a life lived for 99 years, however we'll all remember Bessie with all the many memories we each have of her. On behalf of my Pop who is Bessie's brother, Oliver, in Ireland and our large Irish and Australia families, I say, you will be sadly missed, but we know you are at peace now, that you are with God, and that gives us peace and comfort too".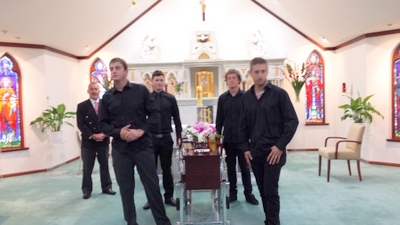 Sister Tarcisius' grandnephews carry her coffin to her final resting place – Paul, John, Steven & Alan.
Monsignor Brian O'Loughlin in his homily spoke of Tarcisius' long life of prayer, commitment, service and above all her faithfulness to God's call; the God in whom she trusted and in whom she believed so intensely. As we come to the final farewell for Tarcisius we remember her long life of over 99 years – with over eighty of those years as a Sister of St John of God.
Monsignor O'Loughlin went on to say, "I recall a conversation I had with Tarcisius just a few weeks ago, at the time of her 80th anniversary of profession. She said, "I think God has forgotten me", I responded by saying, 'no, God has not forgotten you, but He must have something more for you to do". "I wonder what that could be", she asked with enquiring eyes. I said that it might be prayer for the sick, for families, for vocations, and prayer is something you have certainly engaged in all through your life and you can continue now! I saw 'Tar's' face light up as she said, "Yes, I'm sure that I can do that for a little longer"!  And so it was, Tar continued her prayerful journey to the end.
In his tribute to Sr Tarcisius, whom Monsignor O'Loughlin has known for the past thirty years, he spoke about her commitment to family and community and the example of her ministry of love with mothers and babies. He went on to say, "In her early years she trained as nurse and later she trained as Midwife, Nurse Tutor and Charge Nurse at Subiaco Maternity Hospital. Thousands of babies were delivered into her caring hands and for those who were fragile and premature she nurtured into life, keeping contact with the families for many long years. Her dedication and example was a shining light to the Sisters and to the hundreds of nurses and doctors with whom she worked.
Tarcisius' contribution to the mothers and babies of this State of Western Australian is legendary. And those in authority knew this because the vast majority of her eighty years as a John of God Sister, were spent either here at Subiaco or in later years in the Kimberley amongst the mothers and babies of the indigenous people.  All were the better for the commitment, dedication and professionalism which Tarcisius radiated so confidently by her very presence, her skills and her knowledge".
Monsignor went on to say, "As we all look back on Tarcissius' long and blessed life, we can take for ourselves a model of her prayerfulness, her example of dedication and application to community and ministry, her keen interest in all that was happening around her, and especially her constant care and overwhelming interest in those mothers and babies she nursed ….These people, this place and the Kimberley are better for the lifelong contribution of Sr Tarcisius Ryan. Eternal rest grant unto her Oh Lord and may perpetual light shine upon her for ever".
May you rest in peace, Tarcisius.
Tarcisius, was laid to rest in Karrakatta Cemetery with her beloved sister, Sister Theodore Ryan.
Rita McDermott SSJG
Subiaco Community Local Leader