Obituary:
Eulogy
Sr DeLourdes Hogan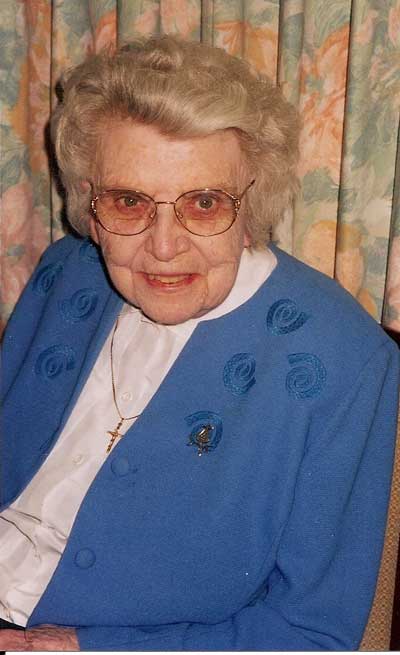 Welcome to all of you as we celebrate and thank God for the life of our dear Sister De Lourdes Hogan
A special welcome to De Lourdes grandnephew Michael John who arrived here from Sydney today.  Welcome also to her friends Mr Bill Singleton and Mr and Mrs Denis Karsup.
As a Sister of St John of God I am privileged to be asked to deliver this eulogy on the life of our dear Sister De Lourdes, or as she was called before her profession Elizabeth Bridget.  The word eulogy is a Greek word meaning praise and a eulogy is supposed to capture some of the life of the deceased and give comfort to the people who knew the person.  I will do my best to carry this out.
How does one do justice in a eulogy to a life given to following the Lord as a religious sister promising to observe the three vows of poverty, celibacy and obedience – or to understand the call of God which caused her to leave her country of birth and come to a foreign land to nurse the sick.  And that is what she did and persevered until her death.
Sr De Lourdes was born in Co Clare, Ireland in the year 1914 and Christened Elizabeth Bridget Hogan – she died here at this Villa ninety four years later.  She was a member of a large family but did not remember all of her siblings as some died in childhood.  Her mother died when she was only thirteen years old and De Lourdes wrote in her Autobiography (1995) that her years at National School had been uneventful, she had no problems with what she had to learn, until her mother died.  For the next year everything she had to do or learn became a big effort, and she found no joy in anything. She writes…. 'I don't think my teacher at the time had any idea how I felt.'  However, she states that her home was a happy one, even when tempered with sorrow at times, as when her eldest brother died of pneumonia at the age of twenty.
De Lourdes first met Religious Sisters when she went to a secondary school at the age of fifteen, finishing there two years later.  During that time she decided to enter a convent but not a teaching congregation. So she went off to London and qualified as a nurse in infectious diseases, later she was going to transfer to do general nursing. However, a friend suggested that she should meet with the St John of God sisters who worked in hospitals in Australia – which she did when she went back to Ireland on a two weeks holiday.
'The thought of Australia appealed to me' she wrote, she saw nursing the sick and poor people like she saw in London as something she could do for God rather than enjoying life in any other way. So, in 1935, at the age of twenty one, she set sail for Perth WA. She made her first profession in 1937 and was finally professed in 1940.
De Lourdes completed her general nursing training in 1942 and continued nursing until 1952, when she trained as a radiographer working in our various hospitals in the X-ray departments until 1982.
De Lourdes made many friends over the years in her ministries as a nurse and radiographer throughout Australia – in Goulburn, NSW; Warnambool and Ballarat in Victoria; and Geraldton, Rivervale, Bunbury, Subiaco, and Kalgoorlie in the West.  She retired from the X-Ray in 1984 whilst in Ballarat and did Pastoral care for some years visiting the patients and bringing them Holy Communion. As she recalls these years, she writes, 'of course in religious life, having vowed obedience to lawful superiors who were the voice of God for me, I went and worked in our various hospitals wherever I was sent.  Sometimes life was easy, sometimes not so easy, but it was God's will for me, and I can't recall that I was ever at any time really unhappy, even if along the way there were still some crosses.  She was in Australia for twenty five years before her first visit back to Ireland having lost her two brothers and her only remaining sister during that time. She writes 'the miles dividing us sharpened that pain'.
In our experience of De Lourdes we would say that she had a strong sense of identity of belonging to the Hogan family, of her Catholic heritage and her belonging to the congregation of the Sisters of St John of God.  She always took delight in doing things well and could cook a Sunday roast better than most, roast duck was her special treat.  She loved making and icing cakes for special occasions. And of course we all know about her expertise in making Irish coffee.
In 1993 De Lourdes felt it was time for her to retire from Ballarat to the Villa and wrote to the Provincial at the time letting her know of her wishes. She came to the Villa later that year and was made very welcome.  For a short while she continued to visit the sick here in Subiaco and was a special minister of Holy Communion.
She accepted her old age and fragility with patience. She had a fall last year, requiring hospitalization and major surgery.   She recovered relatively well and with good care was able to join in some activities especially the 'Sing- a -Long' which she loved.  During some of my visits to her in the Villa she talked about her niece Lilly and her husband Paddy Farrell an ex-Sergeant of the Traffic Department, Dublin Castle, and of the time she last spent with them, in 1992, her last visit to Ireland.
It is fitting that Fr Sean Bredin is celebrating the Mass here for her today, she looked upon him as a dear friend and I have no doubt he will be saying something about this at his homily later.  Our thanks to Sr Sarto and Sisters, Dr McCorkill and the Villa staff for their great care and kindness to De Lourdes over the years.
We wish you a happy journey into Heaven dear De Lourdes and ask Our Lady of Lourdes to intercede for you and all of us.
(Prepared and given by Sr Eileen O'Grady)