Obituary:
A FOND FAREWELL TO SISTER MARTHA FORDE R.I.P.
'While Martha did not wear her heart on her sleeve, she had a heart for people, generous and thoughtful, with a big mind and great vision in looking towards the future."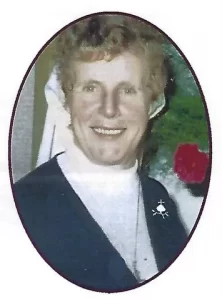 Josephine Monica Forde was born into the faith-filled family of Michael and Catherine Forde on the 6th March 1927 in Craughwell, Co Galway, Ireland.  She was educated at the local Primary school and at the Presentation Sisters' High School. 
Josephine, in answering Gods call, entered the Novitiate of the Sisters of St John of God, in Ballinamore, in October 1945. On her Reception Day she became known as Sister Martha. Following her years of Formation and in making her First Commitment as a Sister of St John of God, Martha was allowed home to visit her family for a short time and to say farewell to her parents and siblings. On return to the Novitiate, she joined a number of her Novitiate companions as they prepared to travel by boat as missionaries to Australia. Martha and her companions arrived in Perth on 2nd July 1951. During the next three years she completed her Novitiate formation in preparation for her Final Commitment as a Sister of St John of God. She was following in the pathway of two of her older sisters, Sr Frances and Sr Domitilla, both of whom had already arrived in Australia as Sisters of St John of God some years previously.                                          
In her early years in Australia, Martha attended the University of Western Australia where she studied and gained her degree in Pharmacology. She was a woman of vision, dignified, disciplined and hard-working. Nevertheless she enjoyed the fun times – laughter, sharing jokes, storytelling and she loved a party.
Many of us remember the years she spent as Pharmacist and Manager of the Pharmacy of our Subiaco Hospital. Martha also spent a number of years as Leader of the large Community here in Subiaco with more than 200 Sisters in the community. Later, in 1977, she was appointed Province Leader. During her term as Provincial and in the midst of many responsibilities, she was instrumental in answering a call to establish a mission in Pakistan, supported and encouraged by the then Congregational Leader, Sr. Corona Gainford. They spent much time in prayer as they negotiated and planned this new venture for the Australian Province which was supported by the Sisters in prayer on this historic venture, initially to Sialkot, Pakistan, at the invitation of the then Bishop of Lahore.                                                                                                                                
Many of us also remember the morning when Martha was accompanying our four Pioneer Sisters to commence their mission with the Pakistani people. She received word that her mother had died during the night in Ireland.  Her deep faith and acceptance was so evident, with no time to grieve or spend time with her sisters Domitilla and Frances, she heroically made her way to the airport bound for Sialkot.            
In her term of Office as Provincial, she was again inspired by the Holy Spirit in recognizing the need for future collaboration with Lay colleagues. With the Sisters this led her to develop the recommendation, 'Partnership in mission' which she submitted to the 1983 General Chapter – on behalf of the Australian Province. The submission was accepted and worked on by Chapter delegates. As a result it became the era of collaboration for us Sisters with the formation of committees, many meetings and much dialogue. Martha, had certainly sown the seed of what became known as St. John of God Health Care System, (1989) and that is today known as St John of God Health Care, – (with 13 000 staff in 23 facilities).
Martha's vision soon took the Subiaco Community further as she read the signs of the times, and the future needs and care of the Sisters.  After much consultation and research, a decision was reached, that it was necessary to build a new Convent in Subiaco, as the 'old Convent' in the late 1970s left a lot to be desired as a facility for the care of ageing Sisters – a 3 story building with no lift, inadequate fire-escapes etc. As well as this the 'old Convent' was a building with a great deal of wood in the structure, Martha was heard to say that in its condition it was a dangerous 'fire hazard'. And so the old Convent, the 'home' of so many Sisters since 1912 was demolished. It was replaced with a new and modern building that we are now fortunate to enjoy. Twenty years after it was established it was discovered that each room in this new Convent building had been wired for a telephone in each room – such was Martha's foresight and practicality. The demolishing of the old Convent was a great challenge for a number of Sisters as it meant re-locating a large number of Sisters away from Subiaco site for up to two years. Accommodation was found in a large building vacated by the Franciscan Sisters in Victoria Park – 10 kilometers from Subiaco. With support from Leadership and Sister-Support the Sisters soon settled in and really enjoyed their time away from the Mother-House. Actually they would have loved to stay in Victoria Park!    
As we look back on Martha's long life of faithfulness to her God in whom she trusted, her faith permeated her person and characterized her life and Religious Commitment. While Martha was a very active woman, she never failed to join with her community in prayer, with special time spent in prayer with her two beloved sisters, Domitilla and Frances – (R.I.P May 2016).                                                                                                   
In the latter years of her long life, Martha was dependent on the wonderful care of our Nursing staff here in the Convent, and while able, she did express her appreciation.  We thank each one of our Nursing/Caring Staff for that care which they so compassionately and respectively shared with Martha, attending to her every need, through her long illness. Death whether expected or unexpected brings grief and sorrow. We know that our dear Sr Domitilla is now experiencing loss in parting. It calls each of us to proclaim hope and trust in the death and Resurrection of Jesus and to support one another with loving care.  Martha, may you rest in peace.
Sr Rita McDermott
On behalf of the Sisters, Rita extended the sympathy and prayers of the community to Martha's extended family, some of whom were able to be present with Domitilla in her loss; her nieces, Natasha and Irene, her husband Paul and their children, Ryan, Sean and Chloe.
<<<<<<<<<<<<<<<<<<<<<<<<<<<<>>>>>>>>>>> 
Some words from Bishop Justin Bianchini's short homily
The Funeral Mass for our Sister, Martha, was celebrated by Emeritus Bishop Justin Bianchini, assisted by Fr Trevor Simons, Chaplain at Subiaco Convent, Monsignor Brian O'Loughlin and Fr Gordon Howell. 
In his homily Bishop Justin, who was a long-time friend to Sr. Martha, said that "while she did not wear her heart on her sleeve she had a heart for people, generous and thoughtful, with a big mind and great vision in looking towards the future. This was evident in her care for people in need of care, and for her own Sisters of St John of God.  Martha was an unassuming woman and did everything with little fuss. She kept close to her family- near and far. I knew Martha's kindness and care on many occasions, especially as Parish Priest of Kalgoorlie and in negotiating with her, as Province Leader, in regard to St Mary's School,  –  which was founded by the Sisters of St John of God in the early days in Kalgoorlie". 
In mentioning the eulogy presented by Sr Rita McDermott, Bishop Justin said that "he would like to affirm Martha's role as Provincial Leader, especially in relation to her contribution to setting the St John of God Hospital system on its course for the future, a practical woman able to read the signs of the times. This was also evident in her leadership in regard to developing the new Convent at Subiaco". 
The Bishop went on to say that as in the 1st Reading from the Apocalypse 14:13), Martha can 'hear the voice from the Lord saying, 'now they rest for ever after their work, since their good deeds go with them'.  He extended his sympathies to Domitilla and her grand-niece, Natasha, who was present at the celebration of the Eucharist, and to the extended families of Fordes.