Obituary:
 Eulogy – Sr Magdalena Furlong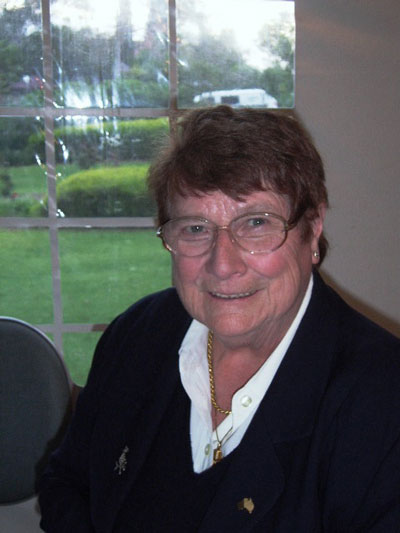 Good morning everyone.  Thank you all for being here today to celebrate the colourful life of Sister Magdalena Furlong.
I'd like to give a warm welcome to Magdalena's sisters – Josie, Marie, her brother-in-law Pat and their two sons who have travelled from Ireland, "Cead Mile Failte".  Magdalena taught me a bit of Gaelic and she maintained that that phrase meant "a hundred thousand welcomes".  A big welcome to our Sisters from Western Australia, we are delighted that our leader Sr Pauline is here, also our Bunbury friends Coleen and Peter who have known Sr Magdalena for many years, they made it across the Nullarbor in their lovely caravan.
I see many of our St John of God Health Care personnel here too – a big welcome – we look forward to meeting you at 13 Grange Rd for refreshments after the Mass.
I can just imagine Magdalena as she used to sit halfway down this Church, looking very happy to see you all here and she would be focusing on her many priest friends who supported her so much with their Masses for her during her difficult journey.
Magdalena loved celebrations – Christmas, Easter, St John of God Day, St Patrick's Day, Foundation Day, the footy finals and of course the Melbourne Cup – other special events – these days were very good reasons to call the community and friends to celebrate at 13 Grange Road.
On 6th January 1937 Ellen Furlong was born in Dunenore, New Ross, Co.Wexford. She was the seventh child born in a family of eight with two brothers and five sisters.
On 8th September 1952 (Our Lady's birthday) Nellie left family and home to travel to Ballinamore, Co Mayo to enter the Novitiate of the Sisters of St John of God to commence formation for ministry in Australia.
On 22nd April 1953 Magdalena received the Religious Habit and was given the name Sr Mary Magdalena – of course she was lovingly called Maggie in Community.  Completing 2 years of initial formation, Magdalena was professed on the 12th May 1955.  Following a short stay with family and friends, Magdalena with 7 companions sailed for Australia on the P&O ship Strathmore, which apparently was on its last voyage with this precious passenger list.  Two months later, after sailing the high seas, they arrived in Fremantle, Western Australia on 11th July 1955 and so began her Australian story.
Magdalena adjusted happily to life in WA and soon manifested in her ministry her many talents.  She excelled in hospitality and catering and car driving – when it was unusual to see a nun driving a car.  Over the next 20 years the following St John of God Hospitals experienced her talents – Subiaco, Kalgoorlie, Geraldton and Bunbury.
Following a year at the Assumption Institute in Rosanna, Magdalena emerged as Hostess Par Excellence at the sisters Holiday House here in Mornington.  All were warmly welcomed and cared for by Magdalena.  She was a careful but fearless driver – entertaining her passengers by her comical comments about the other road users.  Magdalena was always available to take the sisters wherever they wanted to go.  I might add there were few places in Australia that she had not visited.  On her overseas holidays she travelled to Ireland to stay with family and friends and she travelled around Europe.
Following her first stint in Mornington and Mt Eliza, where she frequently attended Mass, Magdalena made many friends, including the Parish Priest of Mount Eliza – now Bishop Hilton Deacon who celebrated her Golden Jubilee Mass here in this church 4 years ago, and who has graced us with his presence here today.
Magdalena went on sabbatical to the Berkley Institute in the USA. This proved to be a time of preparation for the next phase of her ministry.  In 1991-1994 Magdalena was appointed local Leader to the Brighton Community.  In 1994-1997 she was appointed assistant leader to the St John of God Villa, Subiaco – a place for retired Religious and priests.
In 1997, much to my delight Magdalena returned to Mornington.  At this time, after many years of service, the St John of God Sisters in Bentleigh were retiring from Parish Ministry in the Oakleigh Parish – so Magdalena, filled with the desire to follow Saint Mary Magdalen – her namesake – who is well known for her great love of Jesus, decided to put her hand up to carry on this Parish ministry so that she too could bring more people to love Jesus. She did this by leaving home each weekday at 6.30am, to attend the Parish Mass in Oakleigh, then to take Holy Communion to the many people in the Nursing Homes in that region. Magdalena would take the time to listen to them and attend to any of their requests and would always remember to celebrate their birthdays.  She visited the bereaved, prepared funerals, and assisted the Parish Priest – when and where needed.
If this wasn't enough, Magdalena in her generosity and love for people, volunteered to assist in Court Ministry in Frankston, and Rosebud.  We would all like to have been a fly on the wall as Magdalena prepared mostly young people to face the Magistrate.  She would tell them what to say and how to say it whilst at the same time straightening their attire to make them presentable.  She also ensured that the victims got a fair go – in true fearless Magdalena style she would give advice to the policeman, lawyers and Magistrates!
The lady in charge of a Home Visiting Service knew of Magdalena's skills and phoned regularly, asking for Magdalena to visit someone in a Nursing Home who was very lonely and had no visitors.  Following this visitation the person would be laughing and asking Magdalena to come often – she had a golden way with people.
Magdalena loved Mornington and everyday during her illness wanted to return here.  She loved attending our weekend Masses when she would meet the parishioners and would happily become immersed in the banter on the football and horse racing.  Fr Kevin knows well that she was an avid supporter of Collingwood – but she wasn't so wrapped about his racing tips.  She was so comical about the Trainers and horses when they failed to be first past the post. During the football season, Magdalena would sit before the television calling out "kick it" "run" and then "can't you see the goal posts".  Every player and coach got a brief from Magdalena.  Needless to say the knitting in her hands usually had to be ripped out because she dropped so many stitches.
In August 2007, surgery heralded the beginning of a relentless battle with cancer. Through a trying round of tests, chemotherapy and other treatments, Magdalena remained positive and hope-filled not rushing to burden others with the grave prognosis.  Everyone was told by Magdalena that she was feeling well and was getting better.  A few months ago she managed a final trip to Ireland and a few days at Mornington.
In conclusion, I would like to thank the Ballarat Community, particularly Sisters Assumption and Lucilla for their care of Magdalena.  They were outstanding as were our St John of God personnel at Nepean and Ballarat Hospitals.
Magdalena, we love you dearly, we will all miss you.  I will miss you as my companion of 12 years.  We all know that we will meet again.  Scripture reminds us that all those who have left family and home for the sake of the Kingdom will receive one hundred fold in this life and eternal life with God.
So, Magdalena until we meet again – may the Lord hold you in the palm of His Hand.  Let us put our hands together for a brave woman who met life's challenges head on.
Written by Sr Ena Tobin