Obituary:
EULOGY – JOSEPHINE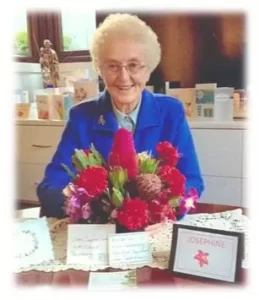 Our lovely sister and friend Josephine died two days before St John of God feastday, which is our Congregational feast, she is being farewelled on St Patrick's Day, and her own feastday will be celebrated in two days' time, on 19th March, the feast of St Joseph. Could any of us do any better than that ??
Josephine has had a long and happy life. She was born in Yambuk, near Port Fairy, in the western district of Victoria, the youngest of five children. We are very happy to have her sister, Bernadette, here with us today, and her nephew Gerard and other treasured family members.
Jo described her childhood as a happy time – helping on the dairy farm, being part of the local community in every way, loving the extended family connections all around her. She always spoke with great passion about Yambuk and the sea…. riding horses along the beach, playing music and sport with the locals.
After finishing school, she spent some time working for a radio station up in Albury – where again she had some family members. Then in 1952, at age 21, she responded to God's call to join the Sisters of St John of God. This took her to Perth, and this was the beginning of her 68 years as a Sister of St John of God.
She trained as a general nurse, and later trained as a mental health nurse. She worked in hospitals in Western Australia and in Victoria, and loved her work as a nurse. When she came to Victoria in the late 1970s, she began to move into other areas of ministry where her entrepreneurial gifts and her great organisational skills came into play – each new challenge was adopted with huge enthusiasm – and with a lot of joy. She was Vocations Director for several years, she began an Activities Program and an After-Care program in our psychiatric hospital in Brighton, she was a Pastoral Associate for more than ten years in Sacred Heart Oakleigh Parish – visiting older people in nursing homes and in their own homes – the "shut-ins" she used to call them – as well as looking after weekend Masses and especially the music and the choirs in the parish. She was part of the young Catholic adult group called "Hearts in Action", always giving great encouragement to each of them, and she spent a year or so as part of "Rosie's" –which is a group of Oblate Youth who looked after a Soup Kitchen in Melbourne at night – so in her 60s or 70s, she'd be off into the city at night to work with Rosie's young people bringing food and joy to those living on the streets.
For the last ten years or more, she has been a wonderful part of The Open Door which is our Creative Spirituality Centre here in Dandenong. She had a special gift for promoting what she believed in, and was the best marketing person I've ever met. She always had an Open Door brochure in her handbag, and would give it to anyone who stopped to talk to her. She loved attending the various groups there, and in particular the meditation and Centering Prayer weekly groups.
Alongside all of this – and really encompassing it – was Josephine's gift of music. For many years, she played the organ for Mass and Benediction, she played the piano for singalongs and dances. She and her sisters learnt music as children, and always considered their musical gifts were given them to use for others. Josephine used these gifts to the full, and until last December, she was running a Singalong each month at The Open Door here in Dandenong. She recently wrote: "I believe that all my God-given gifts have been used, especially the gift of music….." and we are all the richer for her generous use of that beautiful gift.
As well as her gift of music, her love for people characterised her approach to life. She was a very social being, loved gatherings, parties, celebrations, and offering hospitality. Nothing made her happier than having visitors and entertaining them and enjoying their company.
And of course, there is her faith which was instilled in her in her family home, and which she developed and nurtured and treasured throughout her long life. She loved her John of God Sisters and her community with a  fierce loyalty, and wholeheartedly welcomed the many changes which we have gone through in our religious life, changes from wearing habits to wearing civvies, different ways of praying, different forms of community living. Jo was at the forefront embracing each of these changes.
I would like to let her have the last word – from some of her recent writing:
"I've always been happy and contented in the John of God way of life….I constantly thank God for the 'hundredfold' I am receiving……..I need to remind myself daily of the need to reach out to the poor and needy, plus all those struggling in life…….there are myriads of sad situations that need our prayers." 
And she continues:
"I conclude with a heart full of gratitude to God for my family and for the call to join the Sisters of St John of God.   Amen."
-Sr Florence Holligan