Obituary:
Celebrating the Life and Death
of
Sister Frances Forde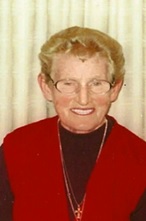 The Funeral Mass for Sister Frances Forde took place on Thursday 12 May in the Subiaco Convent Chapel. Father Joseph Walsh, Parish Priest of Subiaco, was the chief celebrant with co-celebrant Father Gordon Howard. Her two sibling sisters, Sisters Domitilla and Martha, and their Grandniece Sinead were present, with a large gathering of Sisters of St John of God, Presentation and Dominican Sisters, members of the Health care Profession, as well as friends of Sister Frances 'and our Convent staff all joined in the celebration.
Cecilia Teresa Forde was born into the faith-filled family of Michael and Catherine Forde on the 3rd of May 1925 in Craughwell Co. Galway, Ireland,  and lived comfortably on the family's country farm with her parents and siblings where faith, family prayer and traditional values were part of life, with three members of the famly joining the Sisters of St John of God, (Frances, Domitilla and Martha), and their sister, Lilly, joining the Sisters of Mercy, (now deceased).
Cecilia Teresa was surrounded by many animals on their Farm which she loved – hence her special love for dogs that we in community have experienced over the years.
Cecilia Teresa, was educated at the Local Primary School, and at the Presentation Sisters High School, Craughwell. She entered the Novitiate of the Sisters of St John of God on 28th October 1944, where she became known as Sister Frances. She made her First Commitment as a Sister of St John of God on 20th November 1947.
She then travelled to Australia on the Waiwere Cargo Ship, with her companions Sisters Ascius McCormack, Remedius Murphy and Ann Collins, arriving in Perth on the 31st May 1948, where she continued her Novitiate development, making her Final Commitment as a Sister of St John of God on the 20th November 1950. Following her education as a Nurse, her main ministry was in Healthcare, and she spent many years as Manager of the Operating Theatres here in Subiaco, and also at Ballarat and Belmont hospitals.  Frances, was a serious, disciplined, vibrant, dignified and hard working person, availing of every opportunity to have a joke and a laugh and always found time for her daily walk with her dog. She was a proud woman who believed that there was no obstacle too great to overcome.
As we look back on Frances' long life of faithfulness to her God in whom she trusted, her faith permeated her person and characterized her life, and the Scriptures were the backbone of her prayer life and religious commitment.
In the later years of her long life Frances was dependent on the wonderful care of our Nursing Staff and Carers, – at times she was unable to express her appreciation. We thank each one of them for their care which they shared so compassionately and respectfully demonstrated.
Death, whether expected or unexpected brings grief and sorrow and calls us to proclaim hope and trust in the death and Resurrection of Jesus. "Life is changed not taken away". Frances, our beloved Sister, may you rest in peace.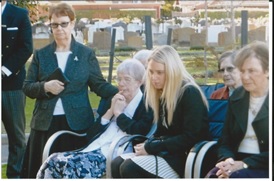 Photo:  At the graveside Sr Domitilla and her
Grandniece Sinead, with Sr Rita, Teresa Ann
and Sr Denise.
Sr Rita McDermott,
Local Leader, Subiaco Convent Community.