19 June, 2018
Australians are wasteful, producing 64 million tonnes, or 2.7 tonnes per person of waste in 2014-15, the most recent figures available, according to the National Waste Report. Most of that waste was from construction and demolition and commercial and industrial sources.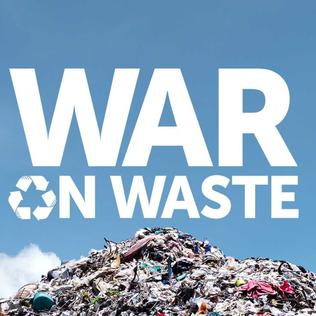 A second season of ABC's War on Waste next month will drive campaigns on e-waste such as laptops and batteries, as well as targeting plastic water bottles.
Three new episodes, hosted once again by Craig Reucassel will tackle plastic water bottles and straws, e-waste, furniture waste as well as going deeper on previous topics like food waste and the recycling crisis.
Episode 1: Tuesday, 24 July at 8.30pm on the ABC
More information about the series can be found here
As Sisters of St John of God, our Chapter Call challenges us to 'Gaze on the mystery of our evolving, changing universe'.
We invite you to reflect with us on the magnificence of Creation and to seek forgiveness for our treatment of the gifts of Earth. This happens in many ways, such as over-consumption, waste and depletion of natural resources, all of which will be considered in this new ABC series.
Image: War on Waste logo. Used under Fair Use