18 October, 2021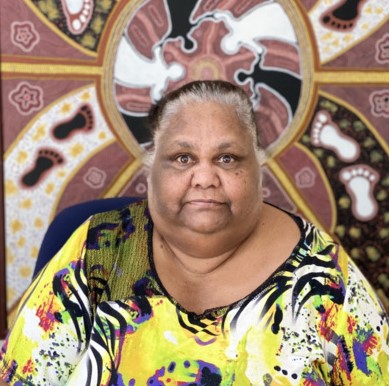 Erica Bernard
My name is Erica Bernard, I am a Yawuru, Kidja woman from the Kimberley. I live in Broome, Western Australia, Yawuru country. I live with two of my three daughters, a granddaughter and my extended family. I work for the Catholic Education Office of Western Australia in the Broome Regional Office, as the Community Liaison Officer. This job allows me to travel to all thirteen of our Kimberley Catholic Schools in the region. I have been working in Catholic Education for the past 20+ years.
In 2006 I took a secondment to the Diocese of Broome to work as the Kimberley World Youth Day Coordinator for two years. During my time as the Kimberley WYD Coordinator I have served on two WYD committees, the Diocesan Youth committee that organised WYD Events and the Indigenous Advisory Council for Sydney WYD. I have come to experience and witness both my Aboriginal Spirituality and Catholic Faith and on many occasions put it in practice. This experience has opened up my heart in my own personal faith journey. I enjoy my family and friends company, I like meeting new people, I guess that has come from doing the 'Welcome to Country' on behalf of my grandfather's country. I love being surrounded by holiness and I love the feeling it leaves me. I hope that I can be a Role Model of Holiness to my people here in the Kimberley.
Click here to hear Podcast 32.