30 December, 2018
As in previous years, Pope Francis' Message for the World Day of Peace addresses a current situation. In this, the 52nd Message for the World Day of Peace, the Pope has issued an uncompromising call for 'good politics'. In a year that has regularly seen political upheaval and popular discontent, the message "Good politics is at the service of peace" is offered to all who hold political office and political responsibility.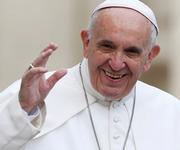 Politics is an essential means of building human community and institutions', says Pope Francis,'but when political life is not seen as a form of service to society as a whole, it can become a means of oppression, marginalization and even destruction'. On the other hand, says the Pope,'If exercised with basic respect for the life, freedom and dignity of persons, political life can indeed become an outstanding form of charity'.
Let us pray for all who hold and all who aspire to political office that their commitment will be to "good politics".
Peace, says Pope Francis in his message, entails a conversion of heart and soul and it has three inseparable aspects:
– peace with oneself,
– peace with others
– peace with all creation
May each of us commit to being peacemakers in 2019.